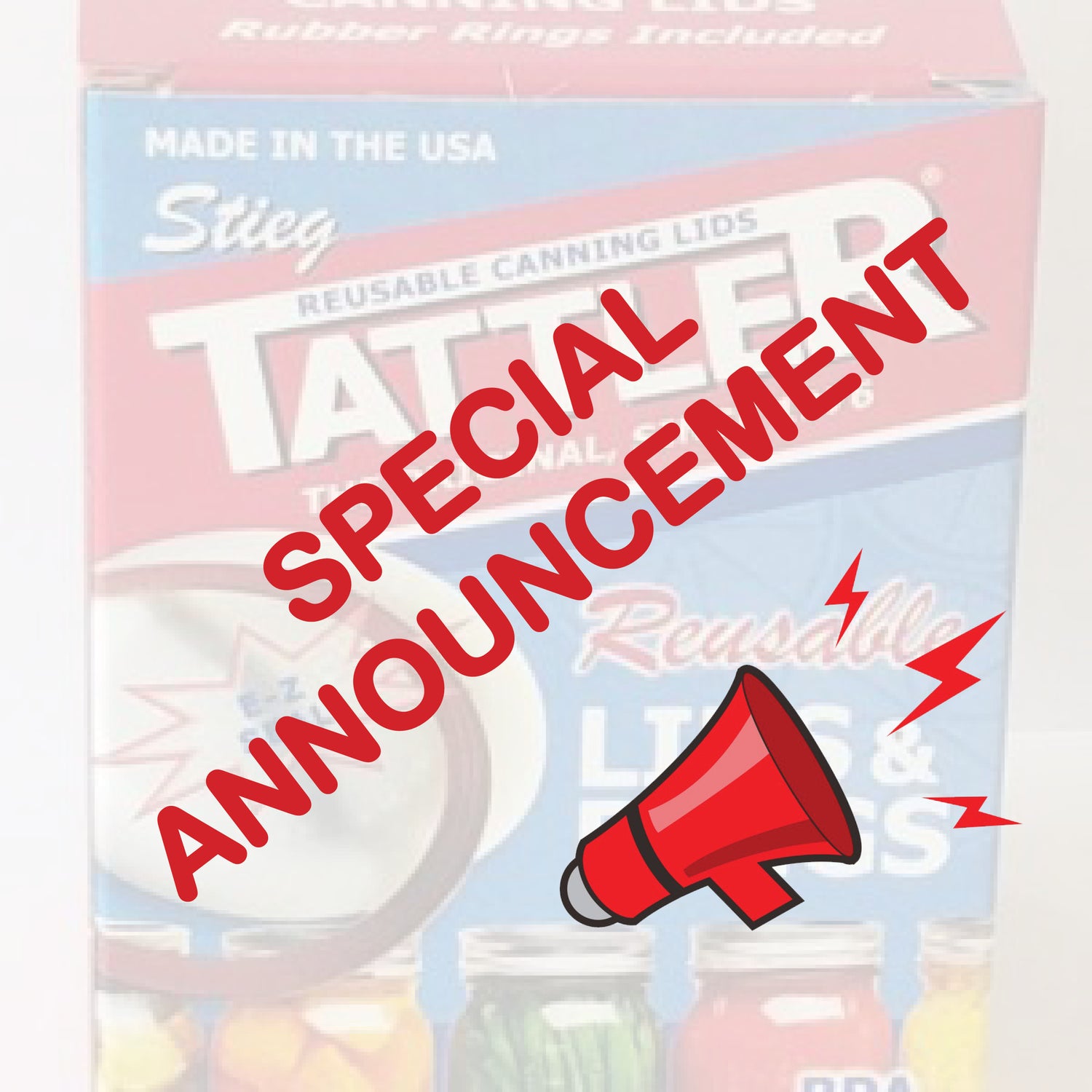 Exciting News at Tattler!
FALL INTO SAVINGS
15% Off Storewide Sale! No Minimum Purchase Required/No Code Needed SALE DATES: September 8th through September 30th, 2023 FREE SHIPPING WITHIN THE CONTIGUOUS USA ALL OTHERS EMAIL US FOR A PRICE QUOTE AT info.tattler@gmail.com
********************************************************
We at Tattler are pleased and proud to announce the successful achievement of adding a new product, Tattler Seal-Loc (our disposable metal canning lid) to our product line. Loren Stieg, developer and inventor of the 1st original plastic reusable canning lid, Tattler Reusable Canning Lids, has created an All American Made DISPOSABLE Metal canning lid, now ready for market. The development of this new canning lid has been nearly a year in the making and is now completed. This product has been brought about by the conventional metal lid market being tainted by lids that do not seal, lids that buckle during processing and a host of other less than desirable traits; leading to processed food loss, unnecessary expense and user frustrations for home canners. Many of today's suppliers are even warning against storing canned goods past 18 months. Tattler Seal-Loc Metal Lids are much thicker, double under coated (for additional corrosion protection) and have a seal design that produces a super strong seal unmatched by anything currently on the disposable lid market. AND 100% MADE IN THE USA!
Contact Us to Learn More!
Tattler Reusable Canning Lid Key Features
- BPA Free -
- Made in the USA -
- Indefinitely Reusable -
- For Hot Water Bath and Pressure Canning -
- No food spoilage due to acid corrosion -
- FDA approved materials -
- Dishwasher Safe -
Free Shipping Within The Contiguous United States / All Others Please Email Us At info.tattler@gmail.com For A Quote
U.S PATENT # 9242771
More Information